---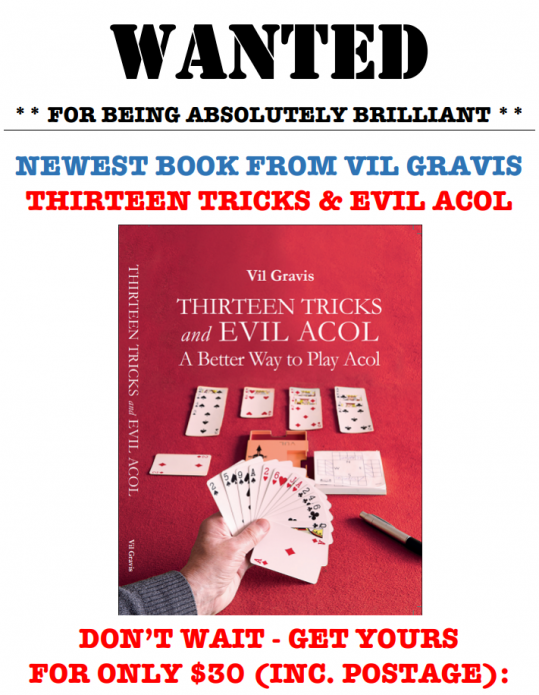 or drop by Hutt Bridge Club to get yours with $5 discount!
During the Wellington Christmas Cheer tournament held on Sat 8th Dec Maciej Szczesny (in the photo below with all the trophies/awards received on the day) and his partner Mariusz Tumilowicz (from Karori Bridge Club) were the best Junior Pair of the tournament:

After the tournament the annual prize giving happened. Junior Hutt 1 team were officially awarded a trophy for winning Junior Interclub 2018 competition - congratulations to all members of the team: Andeana Pilalis (captain) (with the trophy in the photo below), Susan Flavin, Jane McDougall, Julie Newsome, Raewyn Dowman, Graham Goudge and Maciej Szczesny.

Also, awards were given to the winner and runner-up of the Junior League 2018 - congratulations to Maciej Szczesny and Andeana Pilalis (with Regional Bridge Mate Katherine Gough in the photo below)!

The office will be closed from Wednesday 19 December and will reopen on Monday 14 January. Bridge commences Monday 7 January and there will be limited office hours during this week. The office will be open Monday, Wednesday and Friday 11am to 1pm.
Get your Entertainment Membership NOW to help Hutt Bridge Club Inc raise much needed funds!
You'll receive hundreds of valuable offers (check below) for everything you love to do, and help our fundraising at the same time. Hurry, Entertainment Memberships sell out quickly.
The cost of the membership is only $65 - please do remember that the club receives $13 from each sale. Thank you heaps for supporting our club!
BUY HERE or purchase the book directly from the office.