---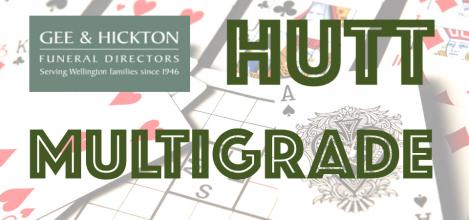 Start Time: Sunday, 3 March 2019 10.00 am (morning tea from 9.30 am)
Entry Fee: $30.00*
Catering: Lunch provided, with a complimentary drink and refreshments after play (please advise of any special dietary requirements)
Entries To: Club Manager (also signup sheet on the wall at the club) or directly on NZBridge website (also shows current entries).
Venue: Club Rooms, 1 Park Ave, Lower Hutt
Congratulations to our Hutt members Nelson Procter and John Donbavand for winning Waikanae Open Tournament last Sunday 10 Feb 2019!
Hutt Bridge Club has a new Facebook page. You can access it by going to facebook.com/huttbridgeclub or clicking Facebook icon at the top of the Hutt Bridge Cub website. Club's Facebook page is regularly updated with posts, photos and events so make sure you like it and invite your Facebook friends to like it as well!
Thank you to everyone who has paid their annual subscription for 2019. The due date was 31 January. If you have not paid your subscription yet we would appreciate your attention to this as soon as possible please.
Directors training for 2019 begins on 23 Feb. This year two different Directors training courses will be presented. One is a short 3 lesson course aimed at those who do not wish to take the exam but are interested in helping out with directing at their home club. The second is the full course which prepares candidates for the NZ Bridge Club Directors exam to be held later in the year. See the noticeboard for more details or visit our Facebook page.
Our first tournament for the year is the Gee & Hickton Hutt Multigrade and it will be held on Sunday 3 March. More details here.
Would you like to play Interclub in 2019? If so form a team and write your entry on the entry form on the noticeboard. If you don't have a team but would like to play add your name to the entry form no team. Entries must be received by Friday 22 Feb.
A sign-up sheet for the Tuesday night Swiss Pairs starting 5 March is on the noticeboard. Remember, you must sign up to play please.
Tune in to the NZ Bridge Radio podcast this Wednesday to hear our very own AJ being interviewed about our Club.
Get your Entertainment Membership NOW to help Hutt Bridge Club Inc raise much needed funds!
You'll receive hundreds of valuable offers (check below) for everything you love to do, and help our fundraising at the same time. Hurry, Entertainment Memberships sell out quickly.
The cost of the membership is only $65 - please do remember that the club receives $13 from each sale. Thank you heaps for supporting our club!
BUY HERE or purchase the book directly from the office.