You are hereBridge Lessons 2020
Bridge Lessons 2020
---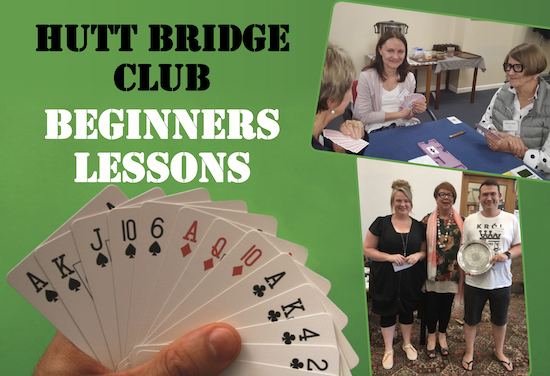 First 3 lessons are FREE !!!
Not sure if Bridge is your thing? Then come along to our first 3 lessons and see for yourself. That way you get to truly experience the joy and challenge of playing bridge. If, after the initial 3 lessons, you wish to continue to learn, we will request the payment of $70 be made.
Lessons give you the perfect opportunity to be introduced to a little bit of Bridge. So, come along and try for yourself!
Testimonials
"Here at the Hutt Club we have, I believe, the best, keenest, and most promising learners and junior players in the country."
- Vil Gravis, ex-international player for NZ, long-time bridge writer and tutor
"Up and coming bridge club in Lower Hutt - doing well with beginners."
- Alan Grant, current NZ national player and tutor (from Google Reviews)
"I am very proud of our Junior players who dominate regional competitions and achieve successes in national and overseas tournaments!"
- Raewyn Dowman, President of Hutt Bridge Club
Tutor
As a bonus you get the COOLEST bridge teacher in the country - A.J.
Listen to an interview with A.J. (fast forward to 19:25)
Lessons Details
Frequency of Lessons: Lessons held weekly, on a Monday, for 14 weeks
Start Date of Lessons: 16 March 2020
Last Date of Lessons: 29 June 2020
Time of Lessons: 7:15pm – 10:00pm
Venue: Hutt Bridge Club, 1 Park Avenue, Epuni, Lower Hutt
Cost (after first 3 lessons): only $70 (includes membership for the year)
Lesson Notes: Comprehensive notes are provided with each lesson
On-Site Parking: We have a limited number of parking places on-site; there is though plenty of road side parking spots nearby
Registration
To register or find out more, contact Megan Turner (Manager of Hutt Bridge Club):