You are hereBridge Lessons 2021
Bridge Lessons 2021
---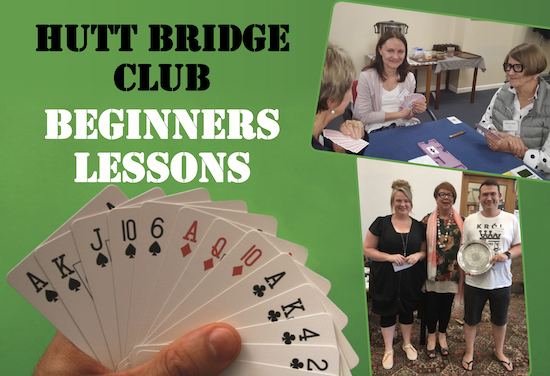 First 3 lessons are FREE !!!
Not sure if Bridge is your thing? Then come along to our first 3 lessons and see for yourself. That way you get to truly experience the joy and challenge of playing bridge. If, after the initial 3 lessons, you wish to continue to learn, we will request the payment of $70 be made.
Lessons give you the perfect opportunity to be introduced to a little bit of Bridge. So, come along and try for yourself!

Frequency of Lessons: Lessons held weekly, on a Monday, for 14 weeks
Start Date of Lessons: 15 March 2021
Last Date of Lessons: 28 June 2021
Time of Lessons: 7:15pm – 10:00pm
Venue: Hutt Bridge Club, 1 Park Avenue, Epuni, Lower Hutt
Cost (after first 3 lessons): only $70 (includes membership for the year)
Lesson Notes: Comprehensive notes are provided with each lesson
On-Site Parking: We have a limited number of parking places on-site; there is though plenty of road side parking spots nearby
Registration
To register or find out more, contact Megan Turner (Manager of Hutt Bridge Club):